How to disable your new, RFID-laden US passport
Dec 28, 2006 10:07 pm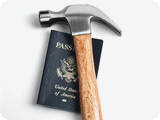 From Boing Boing via Wired:
Smash the crap out of it with a hammer. No, seriously. Snip from Wired Magazine tutorial:
All passports issued by the U.S. State Department after January 1 will have always-on radio frequency identification chips, making it easy for officials – and hackers – to grab your personal stats. Getting paranoid about strangers slurping up your identity? Here's what you can do about it. But be careful – tampering with a passport is punishable by 25 years in prison. Not to mention the "special" customs search, with rubber gloves. Bon voyage!