2022 MAAF Individual Artist Grantees Announced
Sep 12, 2022 9:00 am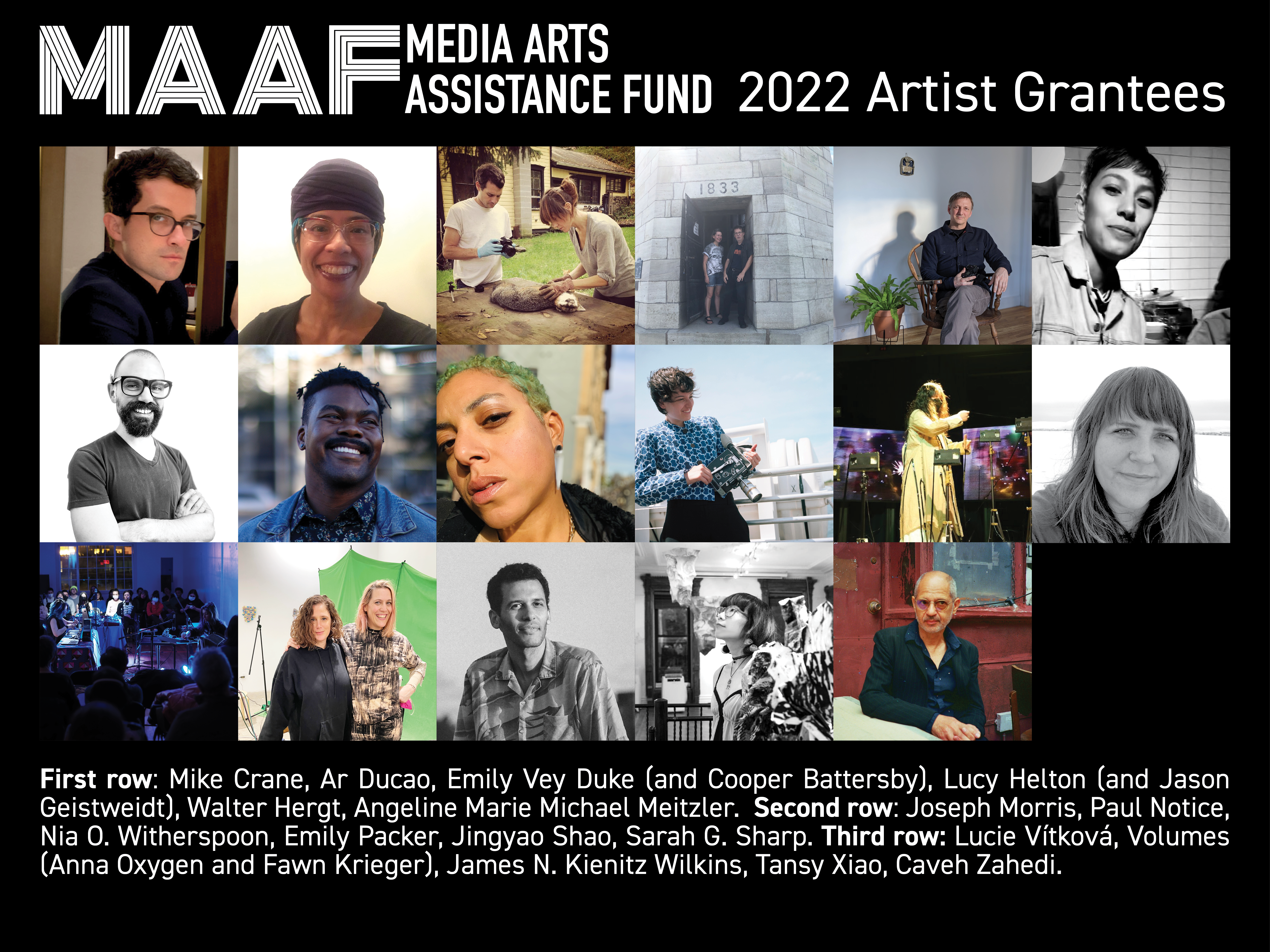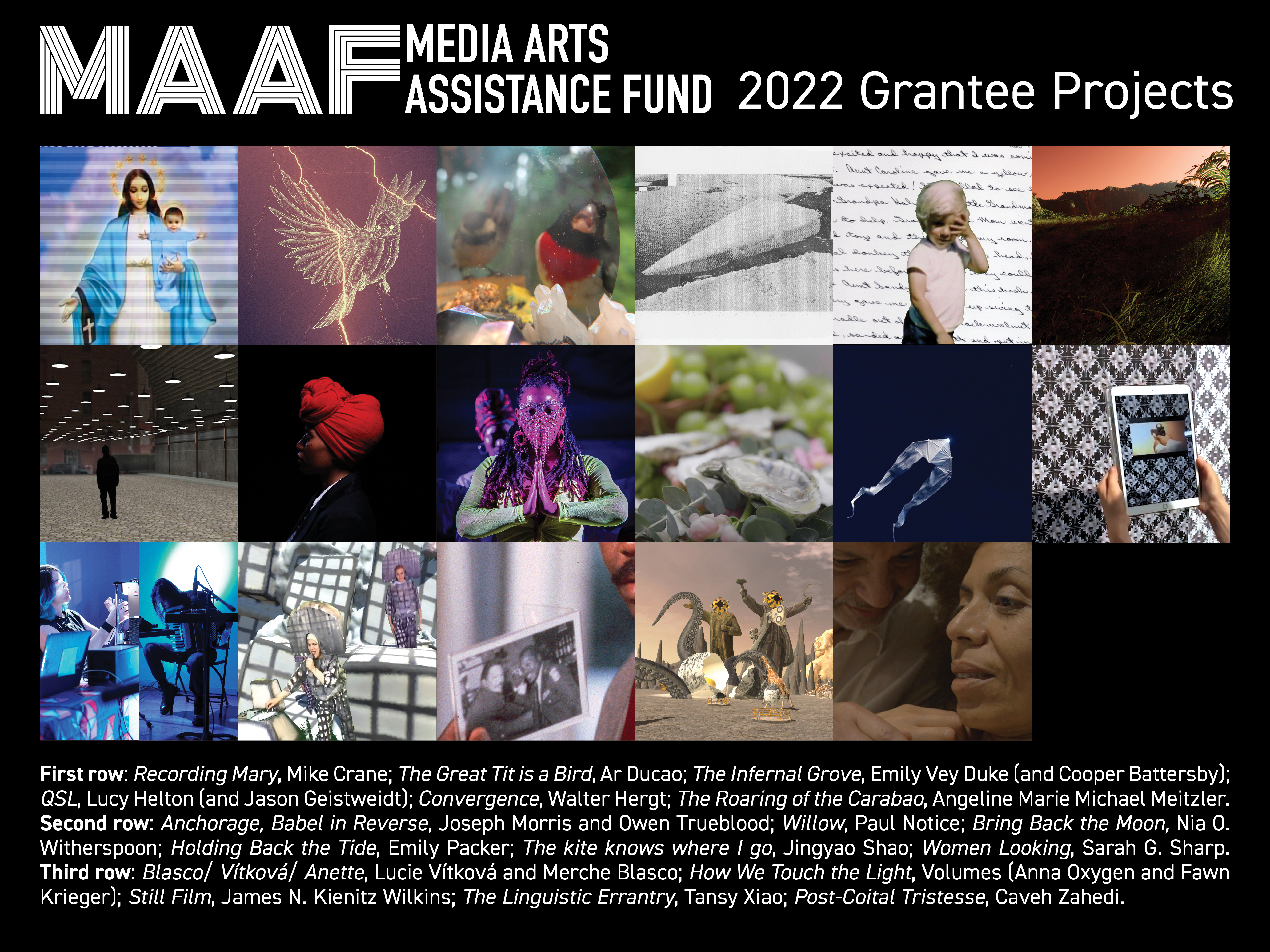 Acra, NY—Wave Farm announced today seventeen grantees for the 2022 Media Arts Assistance Fund (MAAF) for Artists, a regrant partnership with the New York State Council on the Arts. MAAF Grantees: Mike Crane, Ar Ducao, Emily Vey Duke and Cooper Battersby, Lucy Helton and Jason Geistweidt, Walter Hergt, Angeline Marie Michael Meitzler, Joseph Morris and Owen Trueblood, Paul A. Notice II, Anna Oxygen and Fawn Krieger, Emily Packer, Jingyao Shao, Sarah G. Sharp, Lucie Vítková and Merche Blasco, James N. Kienitz Wilkins, Nia O. Witherspoon, Tansy Xiao, and Caveh Zahedi.
The Media Arts Assistance Fund (MAAF) supports electronic media and film organizations, as well as individual artists, in all regions of New York State. For individual artists, MAAF provides support for the completion and/or public presentation of new works in all genres of sound and moving image art, including emergent technology. Grant awards assist artists in completing new work, reaching public audiences, and advance artistic exploration and public engagement in the media arts.
Grantees are selected through a competitive panel process. The deadline for the 2023 Media Arts Assistance Fund for Artists opportunity is January 15, 2023. Detailed information about the seventeen 2022 MAAF for Artists funded projects is available below.
GRANTEES AND PROJECT DESCRIPTIONS
Mike Crane - Recording Mary (working title) (Kings County)
In Recording Mary (working title), the filmmaker calls upon his father to help him track down a childhood audio recording that he made of the voice of the Virgin Mary. The two resort to a game of broken telephone in their attempt to locate the long lost artifact, unearthing strange new memories of spiritual fortitude and cosmic instability. MAAF funding will support the necessary tools for completion and distribution, including 5.1 surround sound mix, color grading, and DCP authoring.
Ar Ducao - The Great Tit is a Bird (Kings County)
The Great Tit is a Bird is a sci-fi narrative project about Black and Brown feminine and trans-feminine people around the world, the losses they survive, and the ways they shape our high-tech era even as they are pushed to the margins. This transfeminine story explores issues its creators have witnessed firsthand, including techno-colonization, research misconduct, gender-based violence, and threats to body autonomy. A limited series, The Great Tit is a Bird is a mosaic of "found footage:" voice memos, commercials, voicemails, radio shows, and phone calls. MAAF Funding will support the preparation of final cuts, 3D animation highlights, and distribution to people in the same demographic as the show's main characters: BIPOC feminine and transfeminine folks, particularly youth interested in STEAM (science, tech, engineering, art, math), struggling with systemic oppression, and/or reckoning with inter-generational, post-colonial trauma.
Emily Vey Duke and Cooper Battersby - The Infernal Grove (Onondaga County)
The Infernal Grove is an interdisciplinary, multimedia art project that challenges current definitions of drugs, crime, addiction, and recovery. It amplifies the message of harm reductionists, who advocate for a safe, clean drug supply and safe drug-user-led spaces in which to take them. The project provides an unconditional forum for dialogue among people with lived experience of drug use, including those dealing with legal outcomes of drug prohibition. MAAF funding will support the post-production of the experimental documentary at the heart of the work and prototyping for an immersive video installation.
Lucy Helton and Jason Geistweidt – QSL (Kings County and Erie County)
Building on current radio-art and telematic-media practices, QSL utilizes automated photography, analog-data transmission protocols and radio-marine faxes to look at localized climate conditions. Seasonal and site-specific, the installation will conduct a time-based performance that oscillates between live and archival images of ice formations to discuss our planet's past, present, and future. Remote cameras with small single-board computers will be pointedly staged in Buffalo's Main Light on the shore of Lake Erie, to capture, encode, and transmit environmental data driven by lake-effect process. Shifts in the frozen landscape will be imaged and converted to a slow-scan analog signal (WeFax) to materialize as panoramic images printed by a mechanical installation of radio-faxes. This backup environmental technology–designed to receive news, meteorological reports, and emergency communications at sea–are like most analogue fax machines and print out information onto a roll of thermal paper. MAAF support will facilitate installation in gallery settings in both Buffalo and Manhattan, NY, where audience participation will be explored through the assembly of the received thermal prints to make wall objects and other ephemera.
Walter Hergt - Convergence (Dutchess County)
Convergence is an experimental multimedia documentary project incorporating archival film, oral history interviews, collected sound, and written documents. Drawing from the artist's family archive, it uses multimedia layering and dissonance to challenge viewers to step into the tension that resides where memory and history overlay, creating a discordant atmosphere that troubles the viewer's cultural impulses of nostalgia and historical idealization. MAAF funding will support the completion of the experimental film and the development of its accompanying public exhibition installation.
Angeline Marie Michael Meitzler - The Roaring of the Carabao (Kings County)
The Roaring of the Carabao considers the unresolved histories and inherited emotions of imperialistic oppression through the imagined embodiment of the Taal volcano. Located in the Philippine's province of Batangas, 30 miles south of Manila, the Taal volcano is among one of the most active volcanoes in the country. Utilizing aspects of hauntology, this work engages with the volcano's ongoing turbulence as a spectre of the production of Filipino Americanism; silenced imaginaries never properly mourned for and visions of a future that were promised but never arrived. In a series of renderings, this film features the research and experimentation of recreating a 3D model of the Taal Volcano, a method of considering the volcano's activity itself as a process of relentless remembering. The work ultimately results in a CGI animation that narrates a story of a night of the volcano's eruption, intergenerational anger and a desire for heat. MAAF funding will support sound engineering and post-production editing.
Joseph Morris and Owen Trueblood - Anchorage, Babel in Reverse (Kings County)
Anchorage, Babel in Reverse is a site-specific installation by artists Joseph Morris and Owen Trueblood in collaboration with the Endangered Language Alliance (ELA) that features the voices of hundreds of speakers of endangered languages spoken throughout the city of New York. Using hanging electronic speakers, the artists will dedicate each speaker to a single audio recording of a language documented by the ELA. As people approach the installation, the sound is a whispering babel, with hundreds of recorded voices speaking hundreds of languages. However, as one walks beneath the speakers, the babel fades, and individual voices and languages are heard. As participants move through the installation, speakers sense their location, fading in and out to only play the audio of the speaker they stand beneath, allowing them to hear the voices of New Yorkers reciting stories, poems, and fables of languages we're accustomed to hearing as well as the hundreds of voices that NYC is expected to lose in a generation or two. MAAF funding will support the labor and equipment costs of installing this site-specific work under the archway of the Manhattan Bridge in Brooklyn.
Paul A. Notice II - Willow (Queens County)
After "Peer Consumption" is legalized in this world, their utopian governance and ideals like universal healthcare, universal education, universal employment, and a Ban on Police are overshadowed by a predatory housing market paired with vampiric cannibalism. Desperate to pay rent, or risk being eaten alive, Willow, a brooding elected observer of alt worlds and timelines - better known as a Griot - navigates her way to Power. In World #336, a successful 1811 German Coast Slave Revolt leads to a multi-ethnic near-utopia, outlawing White Supremacy and most systemic instruments it uses. However, in this reality, consuming others grants one electrical power, regenerative healing, and the memories of their victim–a metaphor that viscerally reveals capitalism's inherent violence, and toxic allure. Though a standalone short film, Willow, also lays the groundwork for an Afrofuturist TV series that wields the non-linear nature of time and alt world travel as a vehicle to examine the ways in which sociopolitical events of the past impact the present and future. With MAAF support, Willow will begin screening with panel discussions in New York and film festivals in October 2022, culminating in online distribution in August 2023.
Anna Oxygen (Anna Huff) and Fawn Krieger - How We Touch the Light (Tompkins County and Queens County) 
Under the collaborative moniker "Volumes" artists Anna Oxygen (aka Anna Huff) and Fawn Krieger work across media, sculpture, sound, and time. In How We Touch the Light, scanned sculptures placed in the UNITY game engine, become protagonists and active collaborators in a live and simultaneously mediated/broadcast musical performance. The piece narratively addresses virtual placemaking, speculative future building, scale, rupture, and labor and explores the potential of volumetric capture and 3D scanning as a way to generate media assets for a new kind of liveness and meaning making. MAAF funding will support the scanning of two remaining sculptures as environments, costume and soft sculpture creation, and the finalizing of the live performance.
Emily Packer - Holding Back the Tide (Queens County)
Holding Back the Tide is a feature length hybrid experimental documentary about oysters as queer environmental heroes in New York City. This city symphony of urban and aquatic landscapes follows the precarious ebb and flow of the oyster across their life cycles. Along the way, viewers meet an ensemble of farmers, chefs, scientists, and environmental activists, all connected by their role in closing the ecological loop on oyster consumption. Scripted interludes inspired by oysters' genderfluid reproductive biology conjure the Greek figures of Aphrodite, born of a mollusk shell, and Hermaphroditus, as they traverse the city and the waterways in search of a queer and environmentally sustainable way of being. MAAF funding will support post-production including color correction and immersive sound design by artist Kaija Siirala.
Jingyao Shao - The kite knows where I go (Kings County)
The kite knows where I go is a media installation exploration to trace the sensation and perception of awe through flying a kite. Shao adapted a traditional kite with lighting elements and a solar-powered spool. A microcontroller embedded within the spool transforms the tension of pulling the kite string into sound, audible through connected headphones. MAAF support will enable the completion stage of the project including documentation.
Sarah G. Sharp - Women Looking (Kings county)
Women Looking is a multimedia project that explores archival material found in underground feminist press from the early 1970's through textiles, domestic decor, and Augmented Reality (AR). When specific wallpaper and fabric patterns are viewed through the Women Looking AR App, layers of related archival and contemporary media are activated, producing concrete and poetic associations between social issues, movements, and community building technologies of the past, present, and future. By imprinting these radical images onto traditionally domestic forms like quilting, embroidery, and wallpaper, the home is evoked as a potential site of revolution, community building, and imagination. MAAF funding will be used to develop and publish the final version of the Women Looking AR App.
Lucie Vítková and Merche Blasco - Blasco/ Vítková/ Anette (Kings County)
In the album Blasco/ Vítková/ Anette, Lucie Vítková and Merche Blasco explore cyborg-ness through their relationships with their instruments. Vítková perceives the accordion as an extension of their body, where sound and movement are locked into a self-generating cybernetic loop. Blasco built Anette, a 3D printer, as her latest interlocutor and companion in the performance space. Anette's electromagnetic voice is amplified in an octophonic system through custom-built antenna/thimbles that Blasco wears on her fingers. The eight signals broadcast from the thimble-microphones in studio and in performance were later mixed down to stereo, preserving the spatial image created in the live set. The 3-way performance with Vítková, Blasco, and Anette becomes an inter-material conversation between all the human and nonhuman elements that participate in this cyborgian system. MAAF funding will support the release of a double CD through experimental music label XI Records during the Fall/Winter of 2022.
James N. Kienitz Wilkins - Still Film (Queens County)
Still Film is an experimental feature that puts "cinematic memory" on defense and trial, taking the form of a fictionalized witness deposition. The project is conceived as a capstone to an unofficial trilogy of movies using voiceover performance and photography to explore how the appeal of movies may be the promise of something never delivered. MAAF funding will support the movie's post-production.
Nia O. Witherspoon - Bring Back the Moon (Kings County)
Bring Back the Moon is a visual album associated with Priestess of Twerk: A Black Femme Temple, a constellation of experiences, engagements, and ceremonial happenings that center Black femme pleasure, bodily autonomy, and spiritual evolution. Featuring three songs from the larger album, entitled Goddexx Fly Trap (+ Bad B*** Mantras), and inspired by African goddesses like Isis, Oshun, and Yemonja, the film short is a collaboration with cinematographer Imani Dennison and is a fantastical re-telling of how a Black/mixed-race girl's hair journey turns into a portal for healing. When her white mother is unable to manage her hair, they end up at a Black hair salon, where the little girl is not only embraced and affirmed, but gains access to a quantum realm where she is able to cross dimensions. MAAF funding will support the film's release locally in the fall of 2022, as well as submissions to festivals throughout the year.
Tansy Xiao - The Linguistic Errantry (Kings County)
The Linguistic Errantry is a stochastic sound environment and social experiment in a virtual setting. Viewers are invited to operate a first-person character with a game controller. 14 giraffes are set to randomly roam a surreal land full of symbolistic landscape and omnipresent surveillance cameras. Each giraffe is set to sing a measure constituting 2-4 notes and nonlinguistic lyrics deconstructed from L'Internationale. When two giraffes collide, they adopt each other's measure to add to their own array. The piece reimagines the Tower of Babel in a way that manifests the arbitrary nature of history: the consolidation and disintegration of sovereigns, an anticipated revolution to be generated by mere chance, or a parallel universe where nothing ever happens and only entropy reigns supreme. Contingency here serves as a passive approach of resistance, with a silver lining that in theory, like the infinite monkey theorem, the giraffes could sing complete lines of L'Internationale if given an infinite amount of time. MAAF funding will support the equipment for public exhibitions and compensation for vocalists and technicians assisting in the completion of the project.
Caveh Zahedi - Post-Coital Tristesse (Kings County)
Soon after the worldwide pandemic lockdown, an American filmmaker living in New York and a French performance artist living in Berlin meet and fall in love online. Because of travel restrictions in Germany and the U.S., they decide to meet in person in London for two weeks and shoot a film about their encounter. MAAF funding will support the final post-production activities necessary for completion of Post-Coital Tristesse.
–
The New York State Council on the Arts is dedicated to preserving and expanding the rich and diverse cultural resources that are and will become the heritage of New York's citizens. The Council believes in artistic excellence and the creative freedom of artists without censure, and the rights of all New Yorkers to access and experience the power of the arts and culture, and the vital contribution the arts make to the quality of life in New York communities. http://arts.ny.gov
Wave Farm is a non-profit arts organization driven by experimentation with broadcast media and the airwaves. A pioneer of the Transmission Arts genre, Wave Farm programs provide access to transmission technologies and support artists and organizations that engage with media as an art form. Major activities include Artist Residencies and Fellowships; a Public Transmission Art Park; Wave Farm Radio, including WGXC 90.7-FM: Radio for Open Ears, a creative community radio station based in New York's Upper Hudson Valley; a Fiscal Sponsorship program; and Regrant Partnerships with the New York Council on the Arts. https://wavefarm.org
For more information about the The New York State Council on the Arts in Partnership with Wave Farm: Media Arts Assistance Fund (MAAF) visit https://wavefarm.org/grants/maaf-artists.