OPEN CALL: Wave Farm Transmission Sculpture Garden
Mar 17, 2007 2:30 am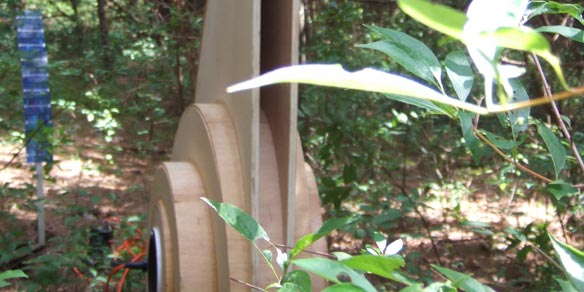 (Early prototype for Jeff Feddersen's "EarthSpeaker," pictured at left at Wave Farm.)
The Wave Farm Transmission Sculpture Garden provides a unique opportunity for artists to conceive of and realize a long-term outdoor transmission-based installation open to the public in a retreat-like rural setting. Artists are invited to submit proposals for sculptural works that incorporate the transmission spectrum in concept or practice. Artists are encouraged to consider recycled materials in their work and utilize renewable energy sources (if power is required). Works will be installed within the 15-acre evergreen forest, situated throughout already the established walking paths, at Wave Farm.
Coinciding with free103point9's tenth anniversary celebration, free103point9's Transmission Sculpture Garden will open summer 2007, with inaugural installations by Jeff Feddersen and Matt Bua.
Jeff Feddersen: EarthSpeaker
EarthSpeaker is an installation of multiple units of an outdoor sonic sculpture. Each unit is a large, solar-powered, electro-acoustic speaker, which absorbs sunlight during the day and emits low frequency sounds at dusk.
Matt Bua: Sing Sun - Room
Sing Sun - Room is a customized extension built onto an existing mobile home located on the Wave Farm property. This gazebo-like structure harnesses natural elements
(wind, water, and solar) to create a site-specific installation where live-sound is composed based on the surrounding environmental conditions.
CALL FOR SUBMISSIONS
Artists are invited to submit proposals for the free103point9 Wave Farm Transmission Sculpture Garden.
This is a two-part application process. Projects selected in Part I will be invited to submit a second comprehensive proposal that includes detailed installation schematics and an itemized budget. The review panel will be comprised of members of free103point9's staff and Advisory Board of distinguished artists, critics, and curators. The deadline for submissions is rolling.
Submission Guidelines (Part I):
Artists are encouraged to visit Wave Farm before submitting a proposal. Visit free103point9 Wave Farm (www.wavefarm.org) for dates and details about upcoming events.
Artist Name:
Artist Contact Information:
Artist Resume / CV:
Artist Statement:
Please describe your artistic practice in a brief statement not exceeding 300 words.
Preliminary Project Description:
Please describe your proposed project in a brief statement not exceeding 500 words. Proposals selected by the review panel will be invited to submit a comprehensive proposal in order to assess feasibility based on installation schematics
and program funding.
Past Project Work Samples:
Please include work samples relating to two or three past projects. Work samples should be submitted in electronic formats including jpegs, PDFs, QuickTime, MP3s, etc. Please do NOT submit slides.
Submission Address:
info@free103point9.org (subject: Transmission Sculpture Garden Proposal: Artist Name)
or
free103point9 Wave Farm
Transmission Sculpture Garden Proposals
5662 Route 23
Acra, NY 12405
The free103point9 Wave Farm Sculpture Garden is supported, in part, by The Andy Warhol Foundation for the Visual Arts, the Individual Artists and Electronic Media and Film Programs of the New York State Council on the Arts, a state agency; and the
Greene County Legislature through the County Initiative Program, administered in Greene County by the Greene County Council on the Arts.
For more information see:
http://www.free103point9.org/sculpturegarden.php