(secret) Messages and (cryptic) Communications
Dec 03, 2005: 7pm- 11:59 pm
The Mattress Factory
500 Sampsonia Way | Pittsburgh, PA 15212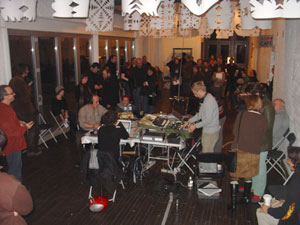 Radio 4x4: with Steve Boyle, neuroTransmitter, and Tom Roe
Presented in conjunction with the exhibition
Messages and Communications
.
$7 ($5 MF Members)
STREAMED LIVE ON FREE103POINT9 ONLINE RADIO
An evening of numbers stations and transmission arts, featuring a shortwave radio presentation transmitted live from England by Conet Project and Irdial-Discs founder Akin Fernandez that explores 30 years of shortwave radio used by the world's intelligence agencies to transmit secret messages. The structure of Mr. Fernandez's presentation will take the form of an actual Numbers Station transmission, and will include a musical introduction and visual projections, followed by a lecture encompassing the basics of Number Stations, the Six Degrees of Separation project, and the social aspects of Numbers Stations and, by extension, their relevance to everyday life. Shortwave listeners throughout the continental USA will be able to hear the broadcast. The talk will be followed by
free103point9's Radio 4x4
, a collaborative radio transmission performance where four simultaneous audio performances are separately sent through FM transmitters to radios positioned throughout a performance space with artists neuroTransmitter, Tom Roe, and local sound artist Steve Boyle.
About
Messages and Communications
October 2, 2005 - April 2, 2006
The Mattress Factory presents new artwork by resident artists from around the U.S. and the U.K. whose work focuses on books, information and text as art objects and/or as components of a large-scale installations. These new installations will address how we communicate within the forms of text, sound and image.
About Steve Boyle
Pittsburgh-based artist Steve Boyle's work, which he refers to as "non-idiomatic sounds/performance," employs the use of microphones as an instrument, tapes, amplitude modulation, filtering, gating, feedback, and improperly wired circuits.
About neuroTransmitter
Founded in 2001, nT is a radio collaborative utilizing analog communication technologies. Working specifically with radio machinations, neuroTransmitter propels signals through urban membranes and cellular formations. To complement their fixed and mobile frequency performances, nT creates radio-sonic installations, produces music, and converts utilitarian objects into radio transmission and receiving devices. neuroTransmitter has created visual works, performed, and broadcasted live on local bandwiths in public spaces and galleries throughout New York City; Columbus, Ohio; Helsinki, Finland; Aarhus, Denmark; and Madrid, Spain. nT is currently a collaborative-in-residence with the research and development program at Eyebeam Atelier, NYC.
About Tom Roe
free103point9's Tom Roe is a sound transmission artist sometimes known as DJ Dizzy. He co-founded microradio stations 87X in Tampa, FL and free103point9 in Brooklyn, NY. Roe performs with transmitters using multiple bands (FM, CB, walkie-talkie), as well as prepared CDs, vinyl records, and various electronics. He has also written about music for
The Wire
,
Signal to Noise
, and
The New York Post
, among others. Roe's writing about Free Jazz in New York recently appeared in
The Wire
's 20th Anniversary publication
Undercurrents
(Continuum). His collaboration with Matt Bua and Matt Mikas,
Of The Bridge
, premiered in
Brooklyn!
(2001) at the Palm Beach Institute of Contemporary Art. Roe's
Constructive Engagement
, featuring manipulated recordings from recent political protests and
Of The Bridge
, both received funding from The New York State Council on the Arts, a state agency. He co-curated
Tune(In)))
(2002), a one-night installation featuring over sixty sound artists performing live into six radio transmitters. He has also performed at the Gwangju Biennele in 2004, and at Center for Contemporary Art in Warsaw, Poland, and at Laznia Centre for Contemporary Art in Gdansk, Poland. Roe has also spoken on panels for Fairness and Accuracy in Media, the Grassroots Radio Conference, Anarchist Forum, and NYC Grassroots Media Conference. He is also free103point9 Program Director. He has DJ'd Rubulad, Union Pool, Galapagos, Smack Mellon, and other New York clubs, and hosted "Audio Buffet" from 2000-2002 at Diner in Williamsburg and "Rock 'n' Roll Radio" in 2002 at Angel in Manhattan. He now hosts "Dizziness" every Monday at 9 p.m. EST on free103point9 Online Radio.
About Akin O. Fernandez
Akin O. Fernandez is an artist working in London in the medium of sound. He authored a book on the phenomenon of London's telephone booth cards, owned and ran the Irdialani Gallery in central London, and has released many highly regarded music and sound art recordings under a variety of pseudonyms. He currently runs the legendary record label Irdial-Discs, and he is most famous for the highly influential quadruple CD
The Conet Project: Recordings of Shortwave Numbers Stations,
a tome documenting thirty years of the improbable history of Numbers Stations.
About the Mattress Factory
The Mattress Factory is a museum of contemporary art that presents art you can get into—room-sized environments, created by in-residence artists. Located in the historic Mexican War Streets of Pittsburgh's North Side since 1977, the Mattress Factory is one of few museums of its kind anywhere.
http://www.mattress.org/