Campfire Sounds 2006
Jul 14, 2006 - Jul 16, 2006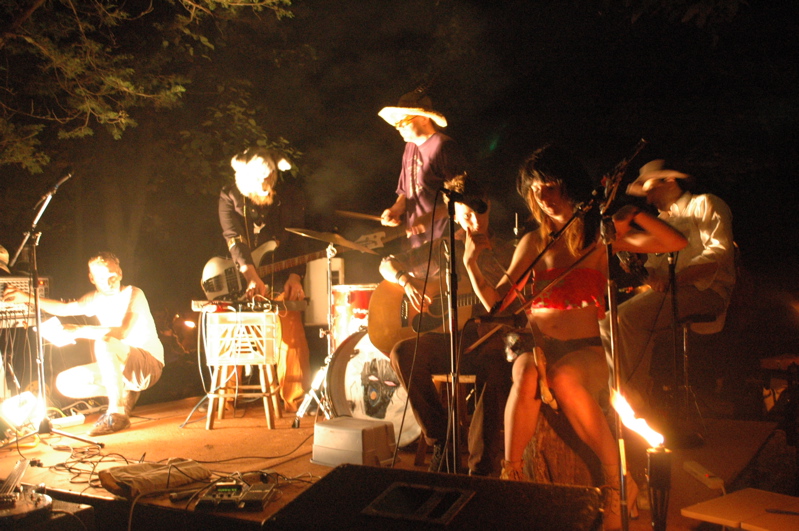 "Campfire Sounds" is a weekend-long camp out. Avant-folk performers from throughout the Northeastern United States gather at the 30-acre Wave Farm for special performances in a rural setting. This year there is a main stage, and a second stage in the woods without electricity for acoustic performances. As always, after hours, everyone will gather around the campfire for acoustic sounds late into the night.
Friday, July 14 6-10:30 P.M.:
Impromptu acoustic performances around the campfire. Camping fee $15 for Friday and Saturday night.
6-9:30: DJ Tom Roe
9:30-10:30: Sophea Lerner (Helsinki, Finland) "one of the frogs in the pond"
10:30 on: gather round the campfire near the pond, everyone is welcome to play (without electricity)

Saturday, July 15 2-11 P.M.:
Live performances begin. Food served all afternoon and evening. Performances from 2 p.m. to 11 p.m., then acoustic performances around the campfire.

IN THE POND
2 p.m.: Forest City Dust Dive (solo set near the pond/campfire)
Bryan Zimmerman gets in the pond for a performance, perhaps with others.

SECOND STAGE, UP IN THE WOODS, AROUND LARGE TREE (batteries only)
3 p.m.: Stars Like Fleas

MAIN STAGE
noon-2 p.m.: DJ Spirit + Free
4-4:35 p.m.: Melanie Moser
DJ Tom Roe between sets
4:55-5:30: The Dust Dive
5:50-6:25: Latitude/Longitude
6:45-7:20: Stars Like Fleas
7:40-8:10: Bunnybrains
DJ Ryan Sawyer between sets
8:30-9: Gown
9:20-10: Samara Lubelski
10:20-11: MV + EE with The Bummer Road
after 11 p.m., mics move to the campfire by the pond, for open mic, anything goes sans electricity

Sunday July 16
Brunch served, possibly followed by a noonish acoustic performance by Latitude/Longitude up in the woods around the giant tree.

SECOND STAGE, UP IN THE WOODS, AROUND LARGE TREE (batteries only)
noonish: Latitude/Longitude

General Information

PARKING: Park in the large field near the road. Walk in and check your camping reservation at the concession stand.

CAMPERS PITCHING TENTS: Place your tent in the shade (just west of a tree) unless you are seeking a hot morning wake up call from the sun. The woods are the best place for a tent without a 5:30 a.m. wake up call from the sun. PLEASE do not setup tent on the Wave Farm main meadow.

FOOD: Pesto pasta on Friday night; eggs Saturday morning, PB+J and hummus sandwiches, fruit, cold potato soup, veggie burgers and meat burgers Saturday night; and pancakes Sunday morning. Beverages too. Diner within walking distance.

SERVICES: Port-a-let on property, near concession stand. Pond for swimming.

ANIMALS: You may want to bring bug spray/sauce. Definitely check for ticks. Be alert in the woods for the bear. (These bears are not aggressive, but of course close encounters should be avoided. Please keep an eye out if you are exploring paths in the forest.) Dogs are allowed (no biters, please).

PERFORMANCE OPPORTUNITIES: After the schedule performances on Friday and Saturday night, the mic around the campfire will be open all night, playing to the radios around the property and the internet all over the world.

BRING: Balls (soccer field for playing), grills, bug spray, shoes that can get wet/muddy, flashlights, fishing poles (catch and release bass), etc.

NOISE: Sound carries in unexpected ways around here, please consider that late night noise might disturb a neighbor.

PROPERTY BOUNDARIES: Please respect the Wave Farm property boundaries (see map on back), so that these summer events may continue for years to come.

KEEP WAVE FARM BEAUTIFUL: Please use the ample trash and recycling cans so we can keep the Wave Farm beautiful.

DO NOT: Move tiki torches (fire hazard).


Campfire Sounds is made possible, in part, by the Electronic Media and Film Program of the New York State Council on the Arts, a state agency; and with public funds from the Greene County Legislature through the County Initiative Program, administered in Greene County by the Greene County Council on the Arts.