Paralektronoia
Dec 04, 2014 - Dec 06, 2014
The New School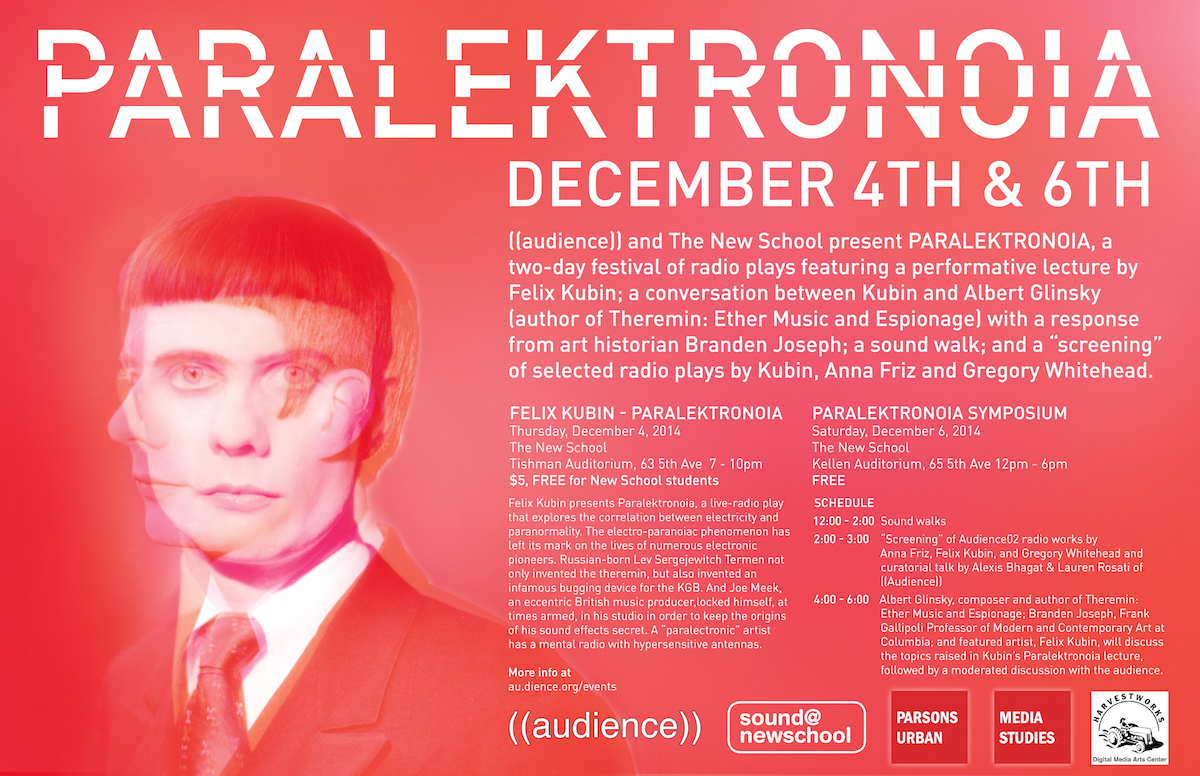 ((audience)), The School of Media Studies and Parsons Urban present PARALEKTRONOIA a two-day festival of radio which includes a lecture/presentation by German sound artist Felix Kubin; a conversation between Kubin and Albert Glinsky (author of Theremin: Ether Music and Espionage) with a response from art historian Branden Joseph; a sound walk; and a "screening" of selected radio plays by Kubin, Anna Friz and Gregory Whitehead.
December 4, 2014 8 p.m. - 10:30 p.m.: PERFORMANCE
PARALEKTRONOIA begins with a performative lecture by pioneering German electronic artist Felix Kubin. Musician and "compositional linguist" Chris Mann opens. A reception will follow.
The electro-paranoiac phenomenon has left its mark on the lives of numerous electronic pioneers. Russian-born Léon Theremin not only invented the theremin, but also invented an infamous bugging device for the KGB. And Joe Meek, an eccentric British music producer, locked himself, at times armed, in his studio in order to keep the origin of his sound effects secret. A "paralectronic" artist has a mental radio with hypersensitive antennas. - Felix Kubin
In order to track down instances of "paralektronoia", Kubin interviewed inventors and musicians who research the effects of invisible oscillations on the psyche using field recordings and radiophonic experiments. The work includes interviews with artist Carl Michael von Hausswolff on Electronic Voice Phenomena and with scientist Stefan Andriopoulos on media and occultism, as well as excerpts of conversations with Alvin Lucier, Lionel Marchetti, Asmus Tietchens, Mika Vainio, and Dr. Hannes Maier, a physicist and neuro-otologist, among others.
December 6, 2014 12 p.m. - 2 p.m.: SOUND WALK
Visitors to the symposium and members of the New School community are invited to open up their ears to the sounds of Greenwich Village with a brief sound walk.
A soundwalk is any excursion whose main purpose is listening to the environment. It is exposing our ears to every sound around us no matter where we are. A soundwalk can be done alone or with a friend (in the latter case the listening experience is more intense and can be a lot of fun when one person wears a blindfold and is led by the other). It can also be done in small groups, in which case it is always interesting to explore the interplay between group listening and individual listening by alternating between walking at a distance from or right in the middle of the group. A soundwalk can furthermore cover a wide area or it can just centre around one particular place. No matter what form a soundwalk takes, its focus is to rediscover and reactivate our sense of hearing. -- Hildegard Westerkamp
((audience)) curator, Alexis Bhagat, will lead one larger group on a meandering sound walk around the Village departing at 12:15 to the Hudson River and back to the New School. Volunteers will lead groups of 4 people to Washington Square Park for blindfolded sound walks, departing until 1:30.
December 6, 2014 2 p.m. - 3:30 p.m.: ((AUDIENCE SCREENING))
((audience)) presents a screening of stereo radio plays by seminal radio artists Gregory Whitehead, Felix Kubin, and Anna Friz. This screening will include Gregory Whitehead's Potato God Scarecrow, a humorous, free associating radio rumination; Kubin's Raum für Telemagnetische Medien, a piece on ghosts and electricity (using source material from Paralektronoia); and Anna Friz's The Clandestine Transmissions of Pirate Jenny, the tale of a radio pirate transmitting from inside the black box of radio technology. Total run time of the radio plays is 66 minutes.((audience)) curators, Alexis Bhagat and Lauren Rosati, will give a brief talk and respond to questions after the screening.
December 6, 2014 4 p.m. - 6 p.m.: DISCUSSION & RESPONSE
Albert Glinsky, composer and author of Theremin: Ether Music and Espionage, Branden Joseph, Frank Gallipoli Professor of Modern and Contemporary Art at Columbia University, and featured artist, Felix Kubin, will discuss the topics raised in Kubin's Paralektronoia lecture, followed by a moderated discussion with the audience. - Reprinted with the permission of ((audience)).