Woods / Black Pus
Jun 09, 2012 - Jun 10, 2012
WGXC 90.7-FM: Radio for Open Ears
90.7-FM in NY's Upper Hudson Valley and wgxc.org/listen everywhere
http://www.wgxc.org/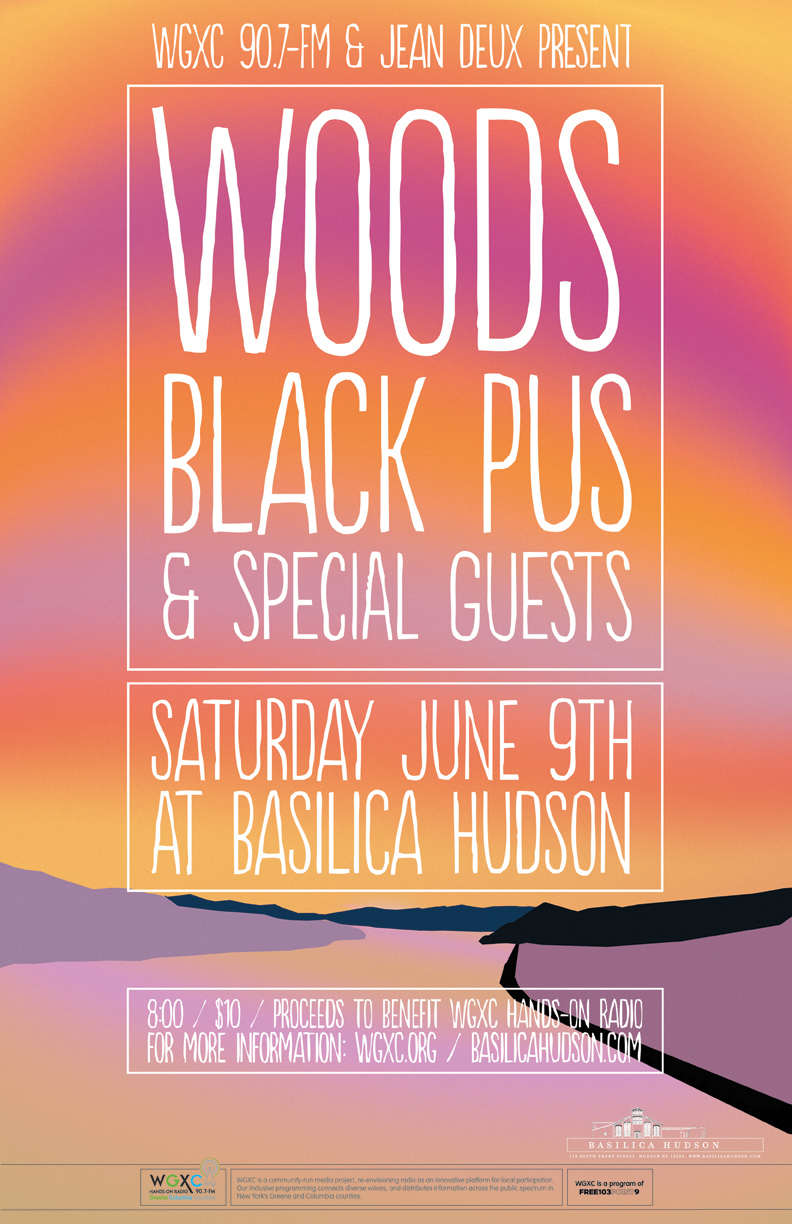 SORRY THERE WILL BE NO LIVE BROADCAST. Changes beyond WGXC control make broadcast impossible.
WGXC 90.7-FM and Jean Deux Books & Records present critically acclaimed bands
Woods
and
Black Pus
(Brian Chippendale of
Lightning Bolt
) and DJ Bunnybrains, with additional guests to be announced.
WGXC is seeking volunteers to help staff this event. We need bartenders, security guards, parking attendants, and people willing to help us to set up and clean up after the performance. If you're able to contribute some of your energies, please get in touch with jess@wgxc.org.
A lo-fi indie folk-pop band from Brooklyn, Woods feature members of the indie rock band Meneguar and are associated with the Woodsist label. Founded as a side project for Meneguar band members Jeremy Earl and Christian DeRoeck, Woods made its recording debut in 2005 with "How to Survive In/In the Woods." In 2007, Woods released a series of recordings, among the series, "At Rear House" was particularly well received. The successive full-length Woods release, Woods Family Creeps (2008), released on Time-Lag Records, marked the inclusion of new band members Jarvis Taveniere (also of Meneguar) and G. Lucas Crane. Upon its 2009 release, "Songs of Shame" was championed by Web site Pitchfork as some of the year's "Best New Music," writing, "along the way, Woods can evoke any number of their lo-fi ancestors, from early Guided by Voices to the murkier depths of the Siltbreeze or Flying Nun back catalogs, but they're still able to retain their own immediately recognizable off-kilter character." The group released their third album, "At Echo Lake", in late spring of 2010, and followed it a year later with "Sun and Shade." Amid a regular touring schedule, in 2012, the band worked with California circuit-bender Amps For Christ for a collaborative split LP.
Black Pus (the solo moniker of Brian Chippendale of Lightning Bolt since 2006) is a musician and artist based in Providence, R.I. Chippendale is best known as the drummer/vocalist for the bands Lightning Bolt and Mindflayer. Chippendale is known for his fast-paced, frantic drumming. In the Peter Glantz and Nick Noe film "The Power of Salad," which documents a string of Lightning Bolt performances across America, Chippendale likened his drumming to his drawing style. "I feel like everything I do has something to do with filling up space. I dunno, almost the way I drum is the way I draw. It's like I'm covering every little space with a beat or a hit or something," he said.