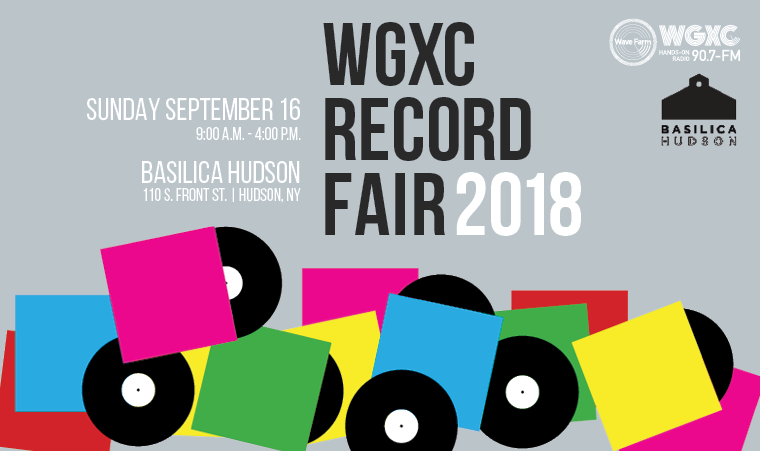 Wave Farm's WGXC 90.7-FM presents the WGXC Record Fair 2018 in partnership with Basilica Hudson. Vendors from across the northeast gather in Basilica's Main Hall to sell vinyl, CDs, cassette tapes, DVDs, plus books, musical equipment and instruments, and radio-related ephemera. The plentiful WGXC tables are a digger's dream, with a variety of affordably priced records in all genres.
The WGXC Record Fair coincides with Basilica SoundScape (Sept 14-16), an immersive, innovative weekend of art, music, and culture, which draws an audience in the thousands. Conceptual sound performances, author readings, installations, collaborations, curated local vendors and artisans, and on-site activities. Info at basilicahudson.org/soundscape.
The WGXC Record Fair Committee is a volunteer committee which supports the WGXC Record Fair. The 2018 members are: Frederick Arnold, Alex Benson, Chris Bishop, Rudy Mungaray, and Michael Wilde. If you're interested in getting involved, email recordfair@wgxc.org.
Early-bird admission from 9 to 10 a.m. is $15 for all attendees.
Free admission 11 a.m. until 4 p.m.
Admission & table fees benefit creative community radio station WGXC 90.7-FM.
VENDOR INFORMATION
Sign up to be a vendor at the WGXC Record and Media Fair. Vendors can book up to three 6' tables to sell records, CDs, tapes, radios, books, radios, electronics, music equipment and more. Unsure about what you have to sell? Send an inquiry to recordfair@wgxc.org. Through May 31, 2108, a single table is $50. After May 31, a single table is $55. Two or more tables are $50 each. Table fees benefit WGXC 90.7-FM.
SIGN-UP FORM
Vendors: please sign-up by clicking this link.
ONLINE PAYMENT PROCESSING
DONATE RECORDS TO THE WGXC TABLE
Unload your old records onto WGXC! WGXC will accept your donations of old media to be sold at the WGXC Record and Media Fair. WGXC accepts old records, CDs, tapes, radios and other sound equipment in good working order. All eras and genres of music will be considered. Your contributions will help raise money for WGXC, and your charitable donation to Wave Farm's WGXC 90.7-FM is tax-deductible to the full-extent of the law.
Find out if your basement trash will be WGXC's treasure by sending an email to recordfair@wgxc.org, or call 518 697-7400.
Sunday Sept. 16, 2018

9 - 10 a.m. (Early-bird, $15)

11 a.m. - 4 p.m. (free admission)

VENDOR INFORMATION

Sign up to be a vendor at the WGXC Record and Media Fair. Vendors can book up to three 6' tables to sell records, CDs, tapes, radios, books, radios, electronics, music equipment and more. Unsure about what you have to sell? Send an inquiry to recordfair@wgxc.org. Through May 31, 2108, a single table is $50. After May 31, a single table is $55. Two or more tables are $50 each. Table fees benefit WGXC 90.7-FM.

SIGN-UP FORM

Vendors: please sign-up by clicking this link.

ONLINE PAYMENT PROCESSING