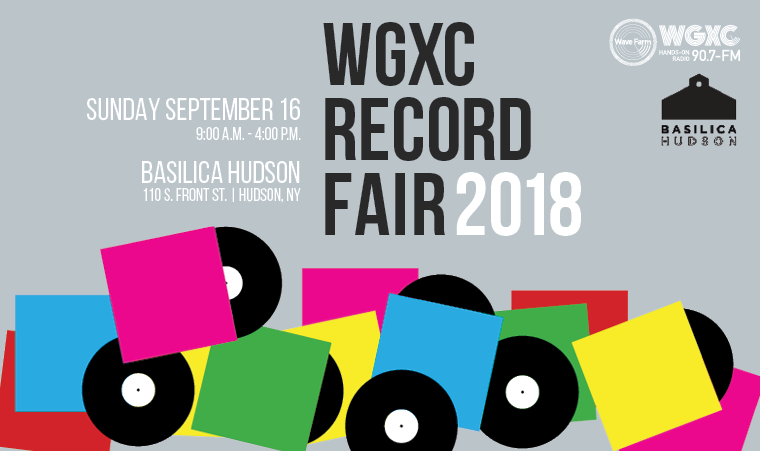 Wave Farm's WGXC 90.7-FM presents the WGXC Record Fair 2018 in partnership with Basilica Hudson. Vendors from across the northeast gather in Basilica's Main Hall to sell vinyl, CDs, cassette tapes, DVDs, plus books, musical equipment and instruments, and radio-related ephemera. The plentiful WGXC tables are a digger's dream, with a variety of affordably priced records in all genres.
The WGXC Record Fair coincides with Basilica SoundScape (Sept 14-16), an immersive, innovative weekend of art, music, and culture, which draws an audience in the thousands. Conceptual sound performances, author readings, installations, collaborations, curated local vendors and artisans, and on-site activities. Info at basilicahudson.org/soundscape.
The WGXC Record Fair Committee is a volunteer committee which supports the WGXC Record Fair. The 2018 members are: Frederick Arnold, Alex Benson, Ted Barron, Chris Bishop, Rudy Mungaray, Jess Puglisi, and Michael Wilde. If you're interested in getting involved, email recordfair@wgxc.org.
Early-bird admission from 9 to 10 a.m. is $15 for all attendees.
Free admission 10 a.m. until 4 p.m.
After Party @ The Half Moon 5 p.m. until midnight. Suggested donation $5, no one turned away.
Admission & table fees benefit creative community radio station WGXC 90.7-FM.
VENDOR INFORMATION
Sign up to be a vendor at the WGXC Record and Media Fair. Vendors can book up to three 6' tables to sell records, CDs, tapes, radios, books, radios, electronics, music equipment and more. Unsure about what you have to sell? Send an inquiry to recordfair@wgxc.org. Through May 31, 2108, a single table is $50. After May 31, a single table is $55. Two or more tables are $50 each. Table fees benefit WGXC 90.7-FM.
SIGN-UP FORM
Vendors: please sign-up by clicking this link.
ONLINE PAYMENT PROCESSING
DONATE RECORDS TO THE WGXC TABLE
Unload your old records onto WGXC! WGXC will accept your donations of old media to be sold at the WGXC Record and Media Fair. WGXC accepts old records, CDs, tapes, radios and other sound equipment in good working order. All eras and genres of music will be considered. Your contributions will help raise money for WGXC, and your charitable donation to Wave Farm's WGXC 90.7-FM is tax-deductible to the full-extent of the law.
Find out if your basement trash will be WGXC's treasure by sending an email to recordfair@wgxc.org, or call 518 697-7400.
CONFIRMED VENDORS INCLUDE
Vinyl Salvage Co. will be bringing 4 crates of new arrivals as always!!! Two tables full of psych, garage, prog, metal, punk, power pop, jazz, funk, soul, blues, reggae, sitar, world, electronic, classic rock, southern rock, country rock, folk, country, Grateful Dead, Beatles, Talking Heads, Led Zeppelin, Bowie, The Clash, etc. plus some great CD's at cheap/fair prices, most $3 each, 4 for $10, more quality titles priced between $5 & $20!! 100+ 45's mainly Beatles, Beach Boys, Doors, garage, punk, hardcore, etc.!!! A few cool T-shirts and posters!!
Get Awesome Records: Vinyl, CDs, and tapes of new and used, rare and out of print, obscure and mainstream, metal, hardcore, punk, noise, industrial, electronic, post-punk, post-rock, pysch etc.
Ray Rivers: clean, collectible 60s/ 70s rock, soul, jazz, blues, soundtracks, electronic, experimental LPs. many sealed.
Underwater Panther Coalition: Mostly records and some tapes. Plus some music related merchandise and audio gear.
Worstkind Collective: a growing record label/ artist collective based out of Brooklyn, focusing mainly on cassettes. Selling current collection of cassette pressings (S L O E - R U L E / a goth dancewave 10 track album, JUST - Operation Broadway Series / a collection of post punk singles, and My Aim Is True - Trying to Trap the Son of a Fisherman / originally released in 2010 a post hardcore indie rock hidden gem). Worstkind will also be carrying some exclusive mixtapes specifically pressed for the fair. We will have approximately 4 crates of curated vintage records as well, and a small line of used electronics (cassette players, headphones, etc...) Tees, Socks, and other branded merchandise will also be available in limited amounts.
Weird Babes Digest Zines: Works-in-progress cassettes aligned with the zine's objective to release ideas into the world that you think are not ready, without the pressure of needing it to be ready. Think more a means to the end. To reach a different audience outside of your Instagram account. The zine highlights works-in-progress, thoughts-in-process....digest ideas. I currently sell them at Mast, Molasses, Topos, and previously Pioneer Books.
Jason Scheller
Golden Music Company will be selling 45s and LPs, with emphasis on novelty, humor, esoteric sounds, oddball packaging, items not sold through record stores, etc. Ask about 78s, tapes, and other formats! We'll also have music on vinyl, both hits and non-hit obscurities, from the 1960s to the 2000s. We'll have books and zines related to music as space permits. Look for the golden-yellow wooden bins.
Lees Browne: 1960's Non Top 40 singles in Near Mint shape of Rock, Pop & imports, Picture sleeves, etc. No common 45's. ++ 1950's to 1970's LP's of all types: Rock, Jazz, Soundtracks, Obscure, Imports, Pop, Asian Dance LP's from Singapore, Thailand, etc.
Alex Benson (from WGXC's "2045") will be selling northern soul, reggae, and disco 45s; soul, jazz, and Latin LPs; and 90s hip-hop singles.
Trash American Style: new, used, rare, common, weird, normal, vintage, current..... all excellent. On record, cassette, cd, 8 track, and more more more.
CJ Dentato will be selling 1,200 Rock & Roll LPs plus songbooks, tour books, rock photos and memorabilia, and a guitar or two.
Chris Bishop: Details coming soon.
Spike Priggen will be bringing a nice selection of bargain priced LPs and CDs.
Patchouli Julie: Great selection of Rock, Jazz, R&B, Funk, Blues, and much more on vinyl. Also bringing handmade tie dye.
Wave Farm's WGXC 90.7-FM will have multiple tables of great finds at very low prices amassed from generous donations of music collections to the station throughout the year. LPs, CDs, Wave Farm and WGXC merch and more.
Basilica Hudson will be selling a range of merch from SoundScape 2018 and past Basilica events from throughout its eight seasons of arts and culture programming.
DJ Lunar Moss: will be selling a mix of 60's to now, rarities from France to Brazil, dance 12's, as well as a couple handcrafted decoupage record cases. And, DJ Uncle Rudy: Details coming soon.
Tim Broun: Vinyl records (rock, jazz, reggae, punk, post punk, new wave).
Joseph Scheer: Details coming soon.
Bash and Pop Records: New & Used collectible vinyl. Jazz, Funk, Punk, Metal & Blues! Hip-Hop, Disco, Reggae, Psych & Soul! Something for everyone! Vinyl from the 1950's thru today!
iea (Institute for Electronic Arts): CDs from Alfred's iea.
More to be announced soon!
Sunday Sept. 16, 2018

9 - 10 a.m. (Early-bird, $15)

11 a.m. - 4 p.m. (free admission)

VENDOR INFORMATION

Sign up to be a vendor at the WGXC Record and Media Fair. Vendors can book up to three 6' tables to sell records, CDs, tapes, radios, books, radios, electronics, music equipment and more. Unsure about what you have to sell? Send an inquiry to recordfair@wgxc.org. Through May 31, 2108, a single table is $50. After May 31, a single table is $55. Two or more tables are $50 each. Table fees benefit WGXC 90.7-FM.

SIGN-UP FORM

Vendors: please sign-up by clicking this link.

ONLINE PAYMENT PROCESSING