WGXC-90.7 FM
WGXC Record Fair
Special Note re 2020 Record Fair
Due to the COVID-19 Crisis Wave Farm's WGXC will be skipping a 2020 Record Fair. We look forward to seeing you all in 2021!
WGXC Record Fair 2019 Information
The 2019 WGXC Record Fair will take place Sunday, September 15, 2019 10 a.m. - 4 p.m. (free admission) in Basilica Hudson's Main Hall, 110 S. Front St Hudson, NY 12534. Vendors from near and far come together to sell vinyl, CDs, cassette tapes, DVDs, plus books, musical equipment and instruments, and radio-related ephemera.

WGXC's Record Fair is presented on the final day of Basilica Soundscape, an immersive, innovative weekend of art, music, and culture that draws an audience of thousands. Basilica Soundscape is curated by The Creative Independent's Brandon Stosuy and Basilica Hudson co-founders Melissa Auf der Maur and Tony Stone. This year features the 'imaginary movie scores' of Jim Jarmusch and Carter Logan's SQÜRL; the one-woman all-hardware electronic orchestra Ela Minus; punk-poet-performer-cyborg Andrea Abi-Karam; CRICKETS — a supergroup featuring Roddy Bottum (Faith No More); JD Samson (Le Tigre), and Michael O'Neill (Princess). Also included will be the US and North American premiere of Icelandic composer Johann Johannsson's Virdulegu Forsetar for large brass ensemble; the colloquial grit and transcendent spirit of Circuit des Yeux; and the return of Basilica SoundScape's drummer in the rafters Greg Fox. The full music and writers lineup for Basilica SoundScape 2019 is HERE.
CALLING ALL VENDORS!
We still have a few tables available for vendors. Reserve yours now to ensure availability.
Step 2: Online Payment Processing
To mail your payment, send to:
WGXC c/o Wave Farm PO Box 13 Acra, NY 12405
Donate CDs, LPs to WGXC's Table
Do you have a collection of records or CDs that you don't need/use anymore? Make a tax-deductible donation of them to WGXC! Contact recordfair@wgxc.org to arrange pick-up or drop-off. Thank you!
Regional Record Lover's Raffle
Any donation to WGXC at the door of the record fair will enter you into the Regional Record Lover's Raffle. This year features gift certificates from Spike's Record Rack (Catskill, NY), Main Street Beat (Nyack, NY), and Rocket Number Nine Records (Kingston, NY), among others to be announced soon!
Are you a regional record store? Consider contributing a store gift certificate ($20 or more) to the Regional Record Lover's Tour Raffle. Participating stores are mentioned heavily on 90.7-FM and Wave Farm and WGXC email announcements/social media in the weeks leading up to the Fair and will have their logo displayed on large banners during SoundScape. Contact recordfair@wgxc.org to express your interest.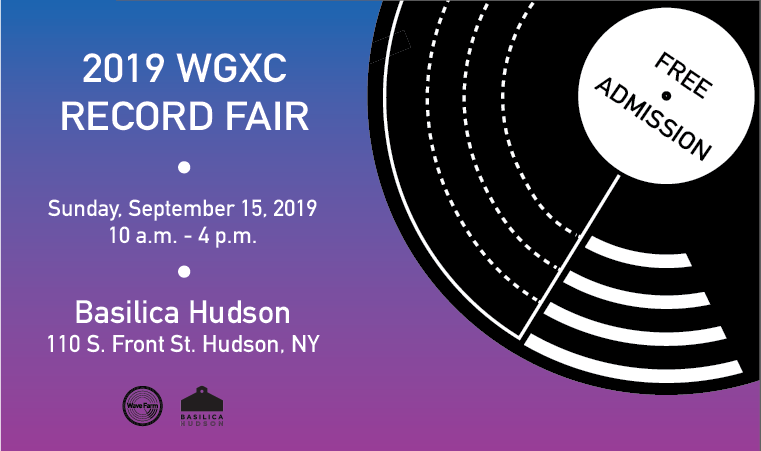 SUNDAY, SEPTEMBER 15, 2019
RECORD FAIR | 10 a.m. - 4 p.m. | FREE!
RAFFLE | Win gift certificates to regional record stores and eateries


Admission & table fees benefit creative community radio station WGXC 90.7-FM Radio for Open Ears.

The day of the fair, WGXC will be raffling off a Regional Record Lover's Tour Package, with gift certificates generously donated by area record stores and eateries.
The WGXC Record Fair Committee is a volunteer committee which supports the WGXC Record Fair. If you're interested in getting involved, email recordfair@wgxc.org.

Selected Images from the WGXC Record Fair 2018. Photographed by Bryan Zimmerman.
---
CONFIRMED VENDORS INCLUDE
Bash and Pop Records
(Hawthorne, NJ)
Vintage and Collectible Vinyl
Chris Bishop
(Ghent, NY)
45s and LPs: garage, soul, psych, international, r&b, etc. and some books on music
Lees Browne
(Wolfeboro,NH)
1950's & 1960's non top 40 45's & LP's of all types
Dramatis Personae
(Sheffield, MA)
Collectible records and books
A Fistful of Discs
(Harrington Park, NJ)
lps, 45s, cds
Get Awesome Records
(Brooklyn, NY)
Used, Rare, and New Punk, Metal, Industrial, and experimental vinyl, CDs, tapes, etc.
Golden Music Company
(Manchester, NH)
45s, books, a few items in other formats
Marc Grobman
(Fanwood, NJ)
Sounds on 78s, 45s, and LPs in a truly wide variety of genres, including international/ethnic, from 1920s to the 1970s.
Ilegalia Records
(Dobbs Ferry, NY)
Records! From acts Lulu Lewis and The Du-Rites plus. T-shirts too.
The Magic Stranger
(Columbiaville, NY)
The Magic Stranger has 78s and LPs of all genres from the 20s thru the 80s. All records will be priced to sell so get there early!
Ross Marvin
(Round Lake,NY)
Indie, Rock, Jazz, Avant-Classical LPs
Maryalice Montoya
(Kinderhook, NY)
Northern Soul Re Issues imported from the Uk.I will also be selling Mod Soul originals
Patchouli Julie's
(Schenectady, NY)
CD's, tie dye
Records at Rock Hill
(Glens Falls, NY)
Wide assortment of albums rock jazz soul pop from $2 and up
Spike's Record Rack
(Catskill, NY)
Vinyl LPs and CD's.
Textual Records
(Brooklyn, NY)
Textual Records is a record label dedicated to the distribution of sound, music, and text by contemporary artists. As a form of publication, the label focuses on the simultaneity of inscription - the textual, sonic, and musical markings created within the context of art. Limited editions are produced in LP, CD, or cassette form in collaboration with the artists and other entities.
Vinyl Salvage Co.
(Fishkill, NY)
LP's, 45's, CD's - Rock, Punk, Metal, Garage, Psych, New Wave, Jazz, Soul, Funk
X-ray Vision
(Union City, NJ)
Soul/Rock/Punk/Metal/Dance 12"s
Yesternow records
(Kingston, NY)
Very good quality records, mostly rock and jazz
Michael Young
(New Rochelle, NY)
Rare LPs, rock, jazz, soul, soundtracks and psychedelic
Youngbloods
(Brooklyn, NY)
Leftfield downtempo music across a spectrum of experimental styles on collectable mediums such as vinyl and cassette, as well as books and wearable merchandise
---
LAST YEAR'S VENDORS HAD THIS TO SAY
Getting to meet the wgxc family was the best
You were organized & that space couldn't be better for a record show. Load-in and out was super easy
Courtesy, friendliness, hospitality and spacing of tables
Great organization and layout, interesting venue. Everyone is great to work with
Loved the room and the general vibe was great
Nice large room with open areas for shopping
I found the event to be both easy (load in, load out, etc..) and very enjoyable! Great people! Great space!
Very organized.
Advertising, communication with vendors, room set up, table cost - Excellent job!!
Orgazational skills were top notch from planning the show through to setup.
Incredibly easy load-in and load-outs.